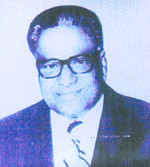 The Bhagavad Gita states, "The actions of a great man are an inspiration for others. Whatever he does, becomes a standard for others to follow."

This certainly applies to our founder.

An outstanding leader, a legendry thinker and an exceptional human being – that is what Shri Gobardhan Das Bagaria was. A man far ahead of his times, he epitomized the dauntless entrepreneurial spirit and dared to dream on a scale unimaginable ever before in the Indian mica industry. His simple life and numerous achievements prove that backed by pure dedication, hard work, confidence, courage, conviction and faith in the Almighty a simple man can achieve the impossible.

From a humble beginning about 60 years back, Shri G D Bagaria set up a small mica mining, manufacturing and exporting company primarily to meet the need of some of his select customers in Eastern Europe and USSR. It was a humble beginning then and at that time little did he know that his small step in the mica field would become such a giant move that generations would follow. It was in the 1950 that he started the company Ratan Mica and in a spectacular innings spanning more than 5 decades he took the company from strength to strength, creating history after history and capturing one geography after the other with more than 7 factories running under his banner which manufactured everything from mica capacitors, to silvered mica, to mica and mica paper based insulating materials, to fabricated mica, high quality cut mica etc besides traditionally manufacturing and offering all types of natural mica such as mica splittings, mica scrap, mica powder, mica flakes etc.

In 1991, the year in which he passed away, he was declared the biggest exporter of mica from India and left behind a company with a workforce of more than 1000 employees and a customer base comprising of some of the biggest names in the mica and insulation field spanning all across Eastern & Western Europe (including Poland, UK, Germany, France, Bulgaria, Czechoslovakia), USSR, USA, Japan Korea and Australia.

Shri G D Bagaria was not just firmly rooted in traditional Indian values but was also the quintessentially modern man, the man of the new millennium. This was clearly reflected in his passion for new projects, the most advanced technology and the highest levels of customer satisfaction. It was with this simple principle that he started building a team of not just his family members and able sons but a team which comprised good professionals who were pioneers in their respective field and who gradually went on to became the pillars of strength of the company for years to come.

It was his zeal, his vision, his dream to set-up a world class factory in India to manufacture high-quality mica and mica paper based insulating materials to meet the demands of the Indian Railways and other PSUs in India who at that time were mainly importing these products from Europe and America at exorbitant prices. And this dream and vision of Shri GD Bagaria was given shape by his 3rd son, Mr Kamal Bagaria who after completing his B.Sc in Chemistry Hons from St Stephens College, Delhi started the mica insulation factory in 1978 and what you see today on this website is his creation.

Today we are proud to be associated with some of the best names in the insulation business and continue to aspire to offer our customers nothing but the best and nothing but the latest.

We are fortunate to have had a man of this stature in our lives. His sterling leadership qualities, remarkable foresight, uncompromising pursuit of excellence, humility, prodigious capacity to motivate and trust people will continue to guide and inspire future generations in our group and company. We are proud and privileged to inherit this invaluable legacy.

Truly, men like Shri G D Bagaria are rare. They come gifted with the power and the vision to change the destiny of many, to alter the course of corporate history. They are the empire builders, the stuff that legends are made of.

The legend called Shri G D Bagaria will never die. His spirit will live on forever.